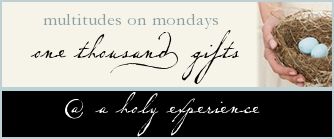 Joining Ann Voskamp 1000 gifts.
Hope you'll visit. Just click on Multitudes on Mondays picture above.
Remembering to be greatful in all things
I'm thankful for:
#332 the hurricane (although bad enough) wasn't worse.
#333 the goal has been met with the money for the TOG well project and is on it's way. Praise God!
#334 the new roof on my daughter's house.
#335 an elderly family friend home from the hosptial.
#336 my first art project with Mod Podge that I began and completed on Sunday.
#337 my best friend's daughter, Madison, getting her learner's permit on the first try.
#338 a quiet, relaxing and not quite so hot weekend with Mike.
#339 the look on an excited Koby's (our dogs) face when he got to go on a car ride.
#340 Mike's patience to spend 2 hours on the phone scoring us a better phone plan.
#341 Mike doing the dinner dishes "every single" night.
#342 my quiet time talking to God becoming easier every day.
#343 the knowledge that fall is on the way.
#344 the book,
Made to Crave
by Lisa Terkeurst.
#345 trusting in God's perfect timing.
#346 christian "blogging friends" and their inspiring words.
#347 hugs
#348 for God's forgiveness of me even when I'm sometimes resistant to forgive others.
I'm working on that one.
#349 for my granddaughter wanting me to be her "friend" on facebook.
#350 time with Makenzie on the phone.
#351 Melissa's new test results and finding a good surgeon.
#352 baby lizards that hop.