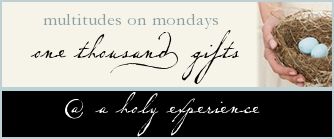 Joining Ann Voskamp for her Multitude on Mondays.
Hope you'll visit.
Remembering to be greatful in all things
#272 homemade banana/chocolate chip muffins
#273 a long, soaking rain
#274 a visit from Ryan and Austin
#275 sweet time school shopping with Taylor (I've missed her so much)
#276 a new baby (great niece) on the way
#277 a fun day at the Science Museum with Gail, Dylan and Colton
#278 parents and children buying new school supplies
#279 a granddaughter excited about orientation at her new high school this week
#280 the covenant of marriage
#281 fans that help when the air-conditioner is just not quite enough
#282 the luxury of the water in my pool
#283 fresh, homemade Greek Village Salad for dinner
#284 cousins giving hugs
#285 the sacrafices of our service men and women for our freedom
#286 smiling faces in the rear view mirror
#287 lazy summer weekends
#288 little boys playing in the water with toy boats
#289 pigtails
What are you thankful for?