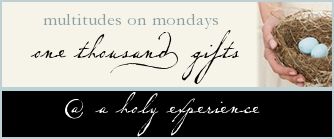 Joining Ann Voskamp for her Multitude on Mondays.
Hope you'll visit.
Remembering to be greatful in all things
#290 a lesson in forgiveness from a blogging friend. Thanks Amber.
#291 the washer and dryer that allows me to be finished with the laundry for
the week by Sunday night.
#292 getting a respectable portion of my framing/reframing photo project for our house
done this weekend.
#293 Carrie finding a job.
#294 family members returning home safely from vacation.
#295 exercising in the pool.
#296 sweet summer watermelon.
#297 the goal amount for the TOG well is almost met. Only 1500.00 more to go. Praise God.
#298 medium brown hair dye.
#299 a letter received from our sponsor child, Muri, from Ethiopia. :)
#300 coupons
#301 spray paint that "fixes" old worn out frames
#302 my husband who willingly goes to home depot to buy the paint and then spray paints the
worn out frames for me because it's 100 degrees outside.
#303 Makenzie being excited about 4 year old preschool.
#304 my time with Dylan on friday with lunch, swimming and a dvd.
#305 my husband "fixing" my oven just by giving it a good old fashioned deep cleaning.
#306 ice cold diet dr. pepper
#307 our 12 year old car that is still going strong.
#308 Kobe, our dog.
#309 sonic's ice.
#310 inexpensive school supplies.
What are you thankful for?