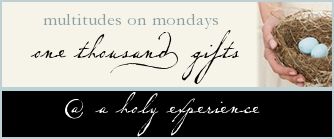 Joining Ann Voskamp for her Multitude on Mondays.
Hope you'll join
Remembering to be greatful in all things
#255

for

my visit with Kelly, Matt, Makenzie and Brody.

#256

being able to spend Makenzie's birthday with her (at Chuck E Cheese).




#257

for my relatively smooth airplane trip to Illinois and my very smooth trip back to Florida

( I am so thankful because air travel is not my favorite and I seem to always have rough flights)

#258

David Platt's book, Radical, that I just finished for a second time.

#259

for the time I have had with my grandkids at bedtime (baths, brushing teeth, reading them books, singing them songs, rocking them and rubbing or patting their backs.

So much fun

.

#260

making more time to talk to God.

#261

AIR CONDITIONING (I may have mentioned this before as a gratitude but I thing this summer deserves numerous mentions).

#262

the flowers I was blessed with from a blogging giveaway.




#263

Brody's new smile.

#264

Ryan's slow but steady recovery from pneumonia.

#265

my heart changing daily by God's grace.

#266

Mike's recent "guy's afternoon out".

#267

productive trip to JoAnn Fabrics to purchase items for my future fundraiser.

#268

date "afternoon" at the movies with my sweetie.

#269

making "a little" progress on my family picture reframing project.

#270

back to school supply deals.

#271

mango-strawberry frutistas
What are you thankful for?