his favorite food....
his favorite drinks....
his favorite partyware (sorry Bubba but it had to be said)....
his favorite cake.....
his mama's favorite son......
thankful for:
533. the awesome message at Sunday's service
534. Melissa's new business doing well
535. a quite evening with my sweetie tonight
536. beautiful weather today
537. my ice-cold diet dr. pepper
538. lots of phone calls from Brody this week wanting to tell his Nana "hi"
539. our car with almost 200,000 miles on it still going strong
540. Melissa's biopsy results coming back clear.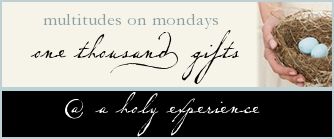 Joining Ann Voskamp 1000 gifts.
Hope you'll visit. Just click on Multitudes on Mondays picture above.
Remembering to be greatful in all things