Normally on Mondays I do a "Multitudes on Mondays" post but I've decided to make a change and list my gratitudes each day at the end of my posts. I wanted to make sure I didn't forget to document what I was thankful for each and every day and to be honest, I would forget by doing it once a week. Oh the joys of "maturing". ha!
There's a blog I like to visit often,
Lemonade Makin' Mom
. I'm sure most of you have
heard of her. If not, you need to visit. Sasha is funny, inspiring, has created awesome products (which she sells on her Etsy site) and does beautiful photography.
She did a really interesting post recently called,
Currently....
I thought it was such a great idea to post your "currents" so you could look back in a year...or two...or three and see what you were thinking about or doing at this point in time. Thanks for the great idea Sasha.
Here goes:
Currently loving
... besides my family which I'm "always loving", it would be the
e-course I'm taking, Creatively Made given by the talented
Jeanne Oliver
.
Currently reading
... Radical (again), the bible and the new HGTV magazine.
Currently waiting
... to hear how my daughter's first day on her new job went.
Currently excited about
... having all of our toilets replaced. TMI? Sorry but I
hate the toilets we have and just found out we're replacing them all in the
next couple of weeks.
Currently missing
... my Illinois grandkids. I don't think I'll ever get use to them
living in another state.
Currently trying
... to eat more healthy.
Currently working at
... getting more uninterupted sleep.
Currently enjoying
... reruns of The Big Bang comedy show. We only started watching
in the last year so all the reruns are new to us. So funny.
Currently snacking on
... leftover Christmas M&M's (that's why I'm trying to
eat healthier.)
Currently using
... philosophy peppermint shower wash. Yummy.
Currently wearing
... black capris, grey blouse and my Valentine present,
a Brighton bangle bracelet with two pink sparkling beads on it. (Got it early).
Currently planning
... my menu for the week because we'll be having house guests
for 5 days.
Currently singing
... How Great Is Our God, listening to it on my playlist.
Currently needing
... new tennis shoes (and socks) because I'm starting back on
my 1 hour a day walking regement.
Currently learning
... how much I need God.
Currently listening to
... inspiring video's of women who have discovered their gifts
that God has given them through the e-course.
Currently wishing
... that I'm able to overcome all the obstacles (such as money and
my immense fear of flying) so that I'll be going to Ethiopia in November
on a mission trip.
Currently doing
... an art project in mixed media that I feel totally out of my skill
and element but loving the process.
Currently praying for
... my daughter's and son's new jobs, my granddaughter's life
as she learns to navigate high school, my oldest daughter's new business,
Muri's life in Ethiopia, ,a clear understanding of God's plan for me, my neighbor
as she learns to navigate life as a widow, wisdom of the voters as the elections
approach.
Currently looking forward to
... a
Christian Women's conference
this March
in Nashville. Would love to see you there. Click on the link for more info.
Currently dreaming of...
the possibility of adopting one day
.
Currently greatful for
... inspiring bloggers like Sasha.
Thankful for:
519. the movie "Courageous"
520. the main actor in Les Miserables honoring God at the end of the play
521. Dylan sleep-over on Friday
522. house guests for the week
523. Carrie's new job
524. Ryan's new job
525. spending time with Carrie this weekend shopping
526. caring and generous big sisters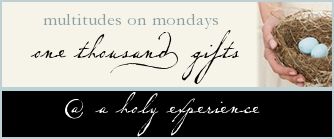 Joining Ann Voskamp 1000 gifts.
Hope you'll visit. Just click on Multitudes on Mondays picture above.
Remembering to be greatful in all things