The third project in the
Creatively Made class
was a 4" x 4" canvas on vintage hardware. I had a hard time finding the hardware in the project so I decided to just do the canvas. The object was to draw a person on a canvas done with mixed media. I drew her free hand and I think my main problem is not knowing when to stop. I'm not satisfied with her features or shadowing in the neck but all-in-all, I think I'll keep her.
Meet Joy....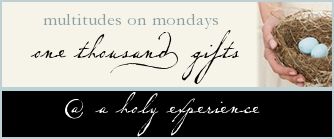 Joining Ann Voskamp 1000 gifts

.
Hope you'll visit. Just click on Multitudes
on Mondays picture above.
Remembering to be greatful in all things
Thankful for:
557. the eye opening sermon and awesome music this morning.
558. lunch out with my sweetie afterwards.
559. a sweet letter from Muri.
560. an opportunity to serve.
561. laundry washed, folded and put away for the week.
562. time to work on my art today.
563. a clean dog.
564. a project done for Valentine's Day.
565. a hug from my sweet great-nephew.
566. baptisms and dedications at church today.
What are you thankful for?