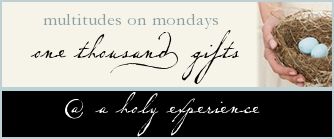 Joining Ann Voskamp 1000 gifts

.
Hope you'll visit. Just click on Multitudes
on Mondays picture
Remembering to be greatful in all things
585. time to finish a project for my class.
586. much needed rain.
587. the will power to do without soda (day six).
588. phone time with Janet.
589. a visit with my Mom this weekend.
590. home cooked meals.
591. my husband's homemade lemonade.
592. park time with Dylan.
593. a church with a servant's heart.
594. grace.
595. special k vanilla almond cereal.
596. communion at church.
597. feeling loved.
598. friends who offer sweet compliments.
What are you thankful for?