Mike had a milestone birthday this year and instead of throwing a big party, we decided to take a road trip. We've always wanted to see New England together and we took this opportunity to see it in the fall. I'll be documenting every few days a different city so we'll be able to look back and remember the special time (since making an album "someday" may never happen). Hope you enjoy the beautiful places we were so blessed to see.
Our first stop was Williamsburg. Since were both history buffs and have never been there, it was first on our list.
It was raining or overcast most of the two days were were there but we had a great time.
We took the ferry over to Williamsburg and while waiting for all of the cars to board, the seagull just looked at us.
You may not be able to tell but it was really raining and I thought we were going to have a bumpy ride but it was
actually very smooth.
We stayed right on the property in a very lovely hotel called The Woodlands at Williamsburg.
There are several to choose from but we found this very family friendly, beautiful, spacious rooms and you walk right out of your hotel, across the bridge and straight into the historic Williamsburg area.
The bridge from our hotel.
The Farm
On "the working farm" this farm worker showed Mike how to make a corn husk doll. She was very nice and spoke as if we were actually in the 1700's.


We really enjoyed learning about a working farm. Everyone there was very friendly and
encouraged any questions that you may have.
The Governor's Palace
We took a tour of the Governor's Palace and Gardens. It's was so beautiful.
The kitchen is in a separate building which they usually did back then to prevent fires. They actually make a full meal daily from scratch exactly the way it was done in the 1700's.


The Gardens
I loved the lines in this picture. I must have taken a dozen shots.
(Debbie G., wouldn't this have been great for the photography class?)
The Capital
The Town
Mike really enjoyed visiting the Apothecary. The bottles are actually from the time.



Carriage Rides
We ended the day with a carriage ride. We rode in the Governor's carriage. It's an exact replica and not very comfortable I might add, but beautiful. The carriage driver was very nice and because it was Mike's Birthday and it was the last ride of the day, she took us on an extra long ride and then all the way to the stables. We had such a great time.




Families
We weren't aware that families like to visit with the kids decked out in period costumes. We saw lots of kids dressed up and occasionally even parents and grandparents joined in. The family above were so sweet and asked us to take their picture with their camera. They were gracious enough to let us take of picture of them with our camera. Aren't they so adorable. We're already planning the trip with the grandkids (in about 6 years). Costumes and all. We can't wait. Mike already tried on hats to find the perfect one.



Williamsburg
We really loved our visit to Williamsburg. We would recommend it for
all ages, especially families. (You should probably wait until the
kids are at least 7 though. Lots of walking.)
Things we remember about Williamsburg:
Homemade Gingerale
Beautiful city
Friendly people (well, it is the south you know)
Lovely homes (old and new)
Lots of brick
Very green grass
The smell of seawater
People like to decorate their houses for fall
The smell of fireplaces
Great Museums
Great shops
**************************************************************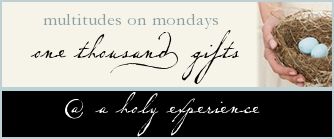 Joining Ann Voskamp 1000 gifts.
Hope you'll visit. Just click on Multitudes on Mondays picture above.
Remembering to be greatful in all things
I'm thankful for:
#375 a safe journey on our trip.
#376 lots of windshield time with Mike.
#377 my family remaining safe while we were gone.
#378 Carrie who took care of our house and Koby while we were gone. It's such a big job.
#379 our neighbors who watched out for our house while we were gone.
#380 Gail who called and checked up on Melissa.
#381 the blessing of traveling over a portion of our great country and seeing the beauty of it.
#382 all of the pumpkins and gourds we saw.
#383 the rain we had on most of our vacation.
#384 the kindness of almost everyone we encountered during our journey.
#385 Mike's milestone birthday.
#386 the ability for the people of Vermont to begin to recover from the floods so quickly and
their thankfulness of their neighbors.
#387 having such a sweet visit with my Dad and step-mom in Virginia.
#388 Virginia.
#389 Angie's pumpkin stand in Virginia.
#390 the feeling of coming home to loved ones.
#392 Kelly, Makenzie and Brody coming to visit this weekend.
#393 Dylan turning three this week.
#394 Understanding and accommodating small town sherrifs.
#395 Mike being able to get delicious lobsters in Maine at a price he wanted to pay.
#396 our military.
#397 my Mom finally getting a new kitchen.
#398 for being blessed to see fall leaves in New England.
#399 the hard working independent business owners we met on our trip.
#400 the upcoming holiday season (even as busy as we get).