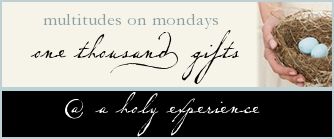 Joining Ann Voskamp for her Multitude on Mondays. Hope you'll join.

Remembering to be greatful in all things
#156
much needed rain
#157
blog friends
#158
the written word
#159
planning a road trip with Mike (with lots of windshield time)
#160
visiting my baby girl's apartment and seeing she's doing just fine
#161
sleep overs
#162
village salad, humus and pita bread for dinner
#163
little girls in pig tails
#164
a walk with a neighbor friend that I haven't talked to in a while
#165
swimming with my nieces
#166
a fundraising idea that I'm happy about
#167 Isaiah 1:17
Learn to do right; seek justice.
Defend the oppressed.
Defend the cause of the fatherless;
plead the case of the widow.
#168
that God has perfect timing even when I don't see the answer
#169
a sweet stranger's offer to help my stranded daughter
#170
another family graduation (Daniel)
#171
anticipation of a homecoming
#172
children's books
#173
lifelong friends
#174
always "trying" to see the good in people before jumping to conclusions
#175
healing words
What are you thankful for?