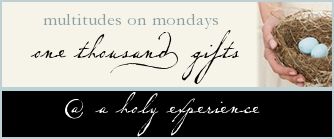 Joining Ann Voskamp for her Multitude on Mondays. Hope you'll join.

Remembering to be greatful in all things
#133
conversations on the phone with granddaughters
#134

a fun day at the park, pool and having a picnic with D
#135

successful test results in school for T
#136

the beautiful hour sitting on the beach listening to the waves (even though it rain
the entire ride there and back)
#137

finding a new church that we really feel at home in
#138

a visit with my mom
#139

that the message on Sunday's sermon spoke directly to me and where I am in my life
#140

that the message on Sunday's sermon spoke directly to Mike and where he is in his life
(even though we heard the same words it took the form of different messages)
#141
a successful shuttle launch
#142
the hard working staff at Trees of Glory
#143
words of love, blankets and bookshelves that will soon be on the way to the children at
Trees of Glory (thanks to sponsor families and donations)
#144
Jessica, Gail and Judy for making the journey to deliver the items
#145
the lovely Africa t-shirt from my niece and her family. LOVE IT!!
#146
all the things my husband does for me just because
#147
my sweet son who calls just to say "Hi Mom, I Love You"
#148
sunshine with a breeze in the air
#149
our yellow lab, Koby (even though he licks and sheds everywhere)
#150
take out pizza when I don't feel like cooking
#151
monthly dinners with my best girl friends
#152
faith
#153
clean sheets
#154
when Mike makes me his famous (and sweet) homemade lemonade
#155
for babies learning to walk
What are you thankful for?