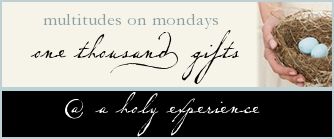 Joining Ann Voskamp 1000 gifts.
Hope you'll visit. Just click on Multitudes on Mondays picture above.
Remembering to be greatful in all things
I'm thankful for:
416. sweet, cute and polite trick or treators who came to my door on Halloween.
417. beautiful weather we've had this November.
418. our new neighbors who will be moving in next weekend.
419. Mike giving up a day he had planned for us full of fun activities to help out
my Mom's friend with a last minute request. :)
420. getting all my Halloween decorations put up quickly this year.
421. a blogger's great idea for
The Happy Day Project
beginning today.
Click on the
Happy Day Project
to learn more about it and join in the fun. Thanks Joy.
422. the Hallmark Channel already playing Christmas movies all weekend long.
Love's Christmas Journey. So sweet.
423. a quick recovery from feeling VERY ILL last night.
424. kiddos who love to sit in my lap.
425. the blessing of my babies.
426. sweet time alone with Taylor for a shopping trip.
427. Dustin, my grown nephew who still gives me a big hug whenever he sees me.
428. that God provides for our needs.
429. the time to work on my homemade Christmas ornaments in the evening while a watch the news
or a recorded show.
430. elementary school fall festivals that have chili cook offs.
431. Facebook Thankfulness Challange and reading what my friends are thankful for daily.
432. christmas cds.
433. Orphan Sunday.
434. being born in the United States that has been blessed with so many freedoms.
435. my husband bringing me a delicious salad to have lunch with me at work today.
436. puzzle time on the floor between a mom and son.
437. Randy and Melissa's continued recovery from surgery.
438. working in an office with kind women.
What are your greatful for?