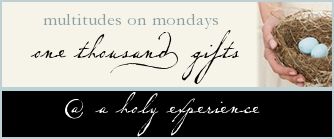 Joining Ann Voskamp for her multitude on mondays. Hope you'll join.
(Remembering to be greatful in all things)
I'm thankful for:
Sunday, March 27
#51 Melissa, Randy and the kids got away for a couple of days to have fun family time.
#52 hearing and seeing the new milestones my grandkids are making.
#53 being on a new healthy eating menu. (I am choosing not to call it a diet)
#54 Rahel becoming our newest family member.
#55 that everytime I leave the house I notice the new flowers blooming .
Monday, March 28
#56 the blessing of planning a surprise party for someone I care about.
#57 my husband putting out the Easter Flag. (Let the decorating begin)
#58 Etsy.
#59 Sonic, Arbys and Chick-Filet for selling Diet Dr. Pepper on ice.
#60 Taylor's first babysitting job.
What are you thankful for