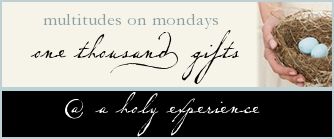 Joining Ann Voskamp for her multitude on mondays. Hope you'll join.
I'm Thankful For:
Sunday, March 20th
#41 the first day of spring.
#42 a beautiful day at the beach just relaxing with my husband and finding a place
without thousands of spring breakers.
#43 spending time with Melissa for a little shopping.
#44 thinking about beginning my Easter decorations.
#45 a clean, brushed dog (thanks babe).
Monday, March 21st
#46 the opportunity to post so I will remember to be grateful in all things.
#47 the talk on the phone with my mom.
#48 the bike ride I'll enjoy this evening with my husband.
#49 Makenzie's strong personality and determination (reminds me so much of Kelly).
#50 Amber and her blog from which I learned about Mulititudes on Monday.
What are you thankful for