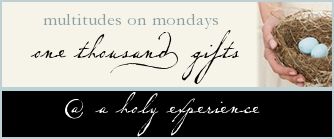 Joining Ann Voskamp 1000 gifts.
Hope you'll visit. Just click on Multitudes on Mondays picture above.
Remembering to be greatful in all things
I'm thankful for:
439. church sermons that speak directly to the issues I need it to (again).
440. beautiful december weather in Florida.
441. pinterest ideas.
442. a visit with my parents this weekend after church.
443. train building with Dylan.
444. my grandkids and my better-late-than-never (posting) of their halloween pictures.

Dorothy and the lion.

A Modern Day Fairy Princess

Spock
(Dylan doesn't know who Spock is so he decided he was a spaceman)

445. gingerbread houses.
446. Mike always being able to fix whatever I break.
447. two nieces accepting Jesus into their hearts this month.
448. Muri's new picture.
449. being closer to finishing our Christmas shopping.
450. peppermint mocha frappuccinos.
451. peppermint bark.
452. children's Christmas plays.
453. outdoor nativitys.
454. all day Christmas music channels.
455. my dad wrapping all the Christmas presents for my mom.
456. Wanda's continued healing from surgery.
457. Christmas cards arriving in the mail.
458. advent calendar ideas by bloggers
(I especially love Pitter Patter Art's idea
of a Random Act of Kindness advent calendar)
.
459. more neighbors putting up Christmas lights this year.
460. light traffic to work this morning. :)
What are you thankful for?