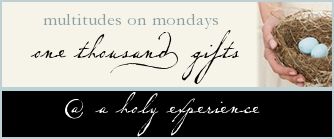 Joining Ann Voskamp 1000 gifts.
Hope you'll visit. Just click on Multitudes
on Mondays picture above.
Remembering to be greatful in all things
I'm thankful for:
461. the birth of Jesus.
462. a great sermon at church followed up by a sweet Christmas program that
my nieces and nephews were in.
463. Carrie, Melissa and Dylan coming with us.
464. the Christmas shopping done, mostly. :-)
465. Richard and Marlene hosting our family Christmas celebration this year.
466. cousins at Christmas time.
Most of the cousins who "will remain nameless" did not want pictures this year.
467. our parents.
468. the influence that Tim Tebow has on the high school kids. Yay God!!!
469. Christmas trees.
470. homemade gifts from my husband. The Best!!
471. all the packages being mailed.
472. more people putting up Christmas lights this year.
473. the precious announcement that our family will add another member by way
of adoption.
Click here
to see our surprise.
474. the upcoming trip to see grandkids.
475. a brother in town visiting.
476. 24/7 christmas music on not one, but two radio stations.
477. egg nog.
479. Christmas movie marathons.
480. gingerbread houses.
481. the nativity (the inside and outside kinds)
482. little girls in Christmas dresses
483. big girls who will still wear Christmas pajamas for her Nana.
What are you thankful for?