Joining Ann Voskamp for: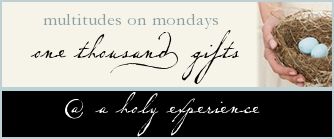 Hope you'll join us
(Remembering to be greatful in all things)
I'm thankful for:
Friday, April 1
#61 the sound of Dylan laughing as he squeals "higher, higher" when I'm pushing him on the swing.
#62 pizza on a Friday night.
#63 watching Tangle..... again.
#64 sweeping up Kobe's hair....again.
#65 cool breezes.
Saturday, April 2
#66 my afternoon of shopping and reflecting by myself.
#67 my visit (however too short) with my mom.
#68 a family friend over to visit and "play" trains with my hubby. They were like little boys again.
#69 watching a recorded episode of the Waltons.
#70 my DVR.
#71 my sweet neighbor bringing over a piece of her son's birthday cake. It was GOOD.
Sunday, April 3
#72 finishing "One Thousand Gifts" for a second time.
#73 my freshly painted guest bathroom.
#74 God allowing me to have a nice house to be able to clean.
#75 dinner and a movie with Mike.
Monday, April 4
#76 being able to celebrate my friends birthday at lunch.
#77 Melissa arriving to her business meeting safely.
#78 my four sweet grandbabies.
#79 I come from a big family.
#80 my parents are healthy.
What are you thankful for?